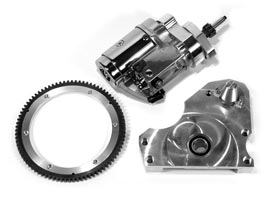 Product Description
Twister 4-Speed Electric Start Kits utilize a Tornado gear reduction starter with a self contained solenoid.  The starter assembly can be mounted and rotated in 4 different positions, allowing the kit to be used on both swingarm and rigid applications. Kits may also be installed on some rear belt applications.  Kits include a ring gear which can be adapted to fit most belt drives.
Kits must be used with an electric start oil tank, and some minor modifications may be necessary when installing the kit.  Kits are available with either a 1.4kW or 2.0kW starter.  Chrome and polished starters, as well as fully polished kits, are also available.  All kits, except for the early Shovelhead kit, will accept a great plate and/or alternator cover.
Note:  Please specify your primary belt drive system and whether or not you are using a Rev-Tech transmission when ordering.  Chrome plating available upon request.
APPLICATION CHART
Application

P/N

Description

Early Shovelhead
electric start kit

TC-1-4SSKSH

Isolator Series electric start kit for '65-'69 Shovelhead with 4-speed ratchet top transmission

Late Shovelhead
electric start kit

TC-1-4SSKSHL

Isolator Series electric start kit for '70-'78 Shovelhead with 4-speed ratchet top transmission

Cow Pie
electric start kit

TC-1-4SSKC

Isolator Series electric start kit for '79-'84 Shovelhead with 4-speed rotary top transmission

Cow Pie Rear Belt
electric start kit

TC-1-4SSCRB

Isolator Series electric start kit for '65-'69 Shovelhead with 4-speed rotary top transmission and factory rear belt*

5 or 6-Speed Transmission in a 4-Speed Case electric
start kit

Tech will specify with order

Isolator Series electric start kit for Sputhe, Rev-Tech, Baker, or other transmission manufacturers utilizing a 5 or 6-speed transmission in a 4-speed case**