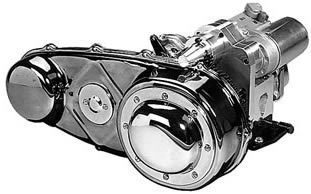 Product Description
If the above question was answered with a resounding NO!, then you have come to the right place. Tech Cycle manufactures a Twister Electric Start Kit for both rigid and swingarm Panhead applications. No longer do you need to change your transmission mainshaft or transmission case to a later style with mounting ears for an inner primary cover.
The Twister kit mounts directly to your transmission mounting plate, as shown in the picture above. The kit must be used with a primary belt drive, electric start oil tank, and a low profile 12V battery. It can be used with certain 1-1/2″, 2″, or 3″ primary belt drives, and with some modifications to your tin primary covers, you can retain that original Panhead look.
Note: Tin primary covers can only be utilized with a Tech Cycle 1-1/2″ primary belt drive installed.